Disclosure: This shop has been compensated by Collective Bias, Inc. and its advertiser. All opinions are mine alone. #SKSHarvest #SeasonalSolutions
I love apple picking season. It's one fall activity my kids will gladly do every week, until the weather is too cold for apples. Homemade apple butter and apple sauce are staples in our house, and baked cinnamon apple hand pies are a much anticipated fall treat.
Last year we picked and used over 40lbs of apples, stocking our pantry for the winter and baking lots of goodies to enjoy. At the end of the day we were faced with a giant pile of apple peels and cores. I hate any kind of waste, and I really felt that there had to be a way to put all these scraps to good use!
After flipping through some old cookbooks I found a recipe for homemade apple cider vinegar that would be perfect for using up leftover apple scraps, giving us another much used product for our pantry. I really enjoy old cookbooks – things used to be done differently and food wasn't wasted as much and I'm just in love with the idea of making something like my own apple cider vinegar, which has so many household uses, out of food that would have otherwise been thrown away.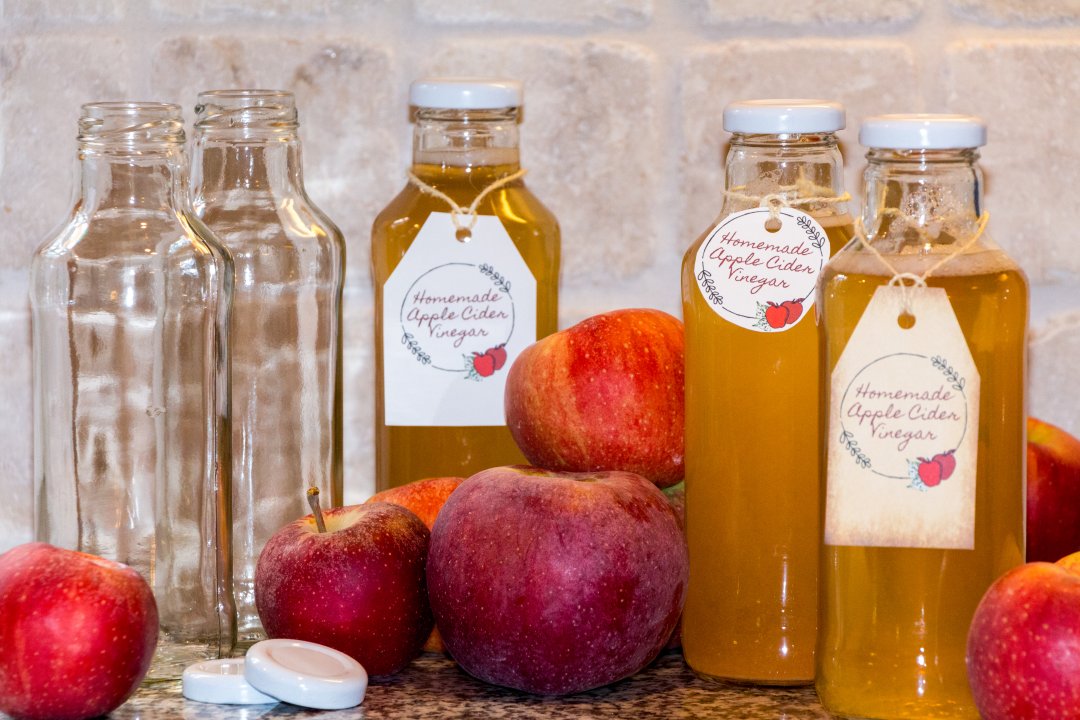 Look at how great this is for gifting! Grab these printable tags below and shop these bottles by clicking on the tag in the image!!
As it turns out, making vinegar is really simple and I'm sorry I waited so long to learn how. It's definitely not something to be intimidated about – it will only take you a short time to get everything together, and after that it's simply a waiting game, allowing the vinegar to naturally ferment over weeks. Here's a simple tutorial for making vinegar (you can find a printable version at the bottom of this post!).
To get started you'll need a few things:
Apple peels and cores
A large, clean glass jar
Water
Sugar
Cheesecloth or coffee filters & rubber band or string for covering the jar
Clean Jars & Lids for storing the finished product
Printable Labels for your jars (find some below!)
The first thing you'll do is pack your jar tightly with apple peels and cores. Since you're using the peels of the apple it's best if you can find organic apples that haven't been coated in wax or pesticide. If you can't, just make sure to wash your apples well before peeling and coring them. You can use any size jar to make your vinegar – I typically make this in a gallon container, but even a quart jar works well for smaller quantities. I use these and they are the perfect size for making a small amount of apple cider vinegar – great for just a few apple scraps or a trial batch of vinegar.
I have always made my vinegar with apple scraps, but if you'd really like to make the vinegar and don't have a use for apples right now, you can make it by coarsely chopping up whole apples instead. You can also save peels and cores in the freezer over time until you have enough to make vinegar.
Next you'll submerge the apples in sugar water. Mix one cup water to 1 Tablespoon sugar – you'll need more than a cup, so just keep mixing at this ratio until you have enough to fill the jar to a couple of inches from the top, and make sure the apples are completely under water.
If you're using a quart jar and you've packed it tightly the apples should stay put. In larger jars you will probably need to weigh the apples down with a small glass or ceramic bowl to keep them submerged. This step is important in protecting your vinegar from going moldy.
Cover your jar with cheesecloth or a coffee filter and secure it with a rubber band or twine. It's important to keep any gnats out of the vinegar. When using cheesecloth I make sure to double layer it, and always check that the cover is tied tightly around the entire jar.
Place the entire jar in a warm, dark place for two weeks. Every couple of days you should check on it and give it a stir. You will probably notice a brown/grey foam form on the top. This is completely normal and part of the fermentation process. You can skim this off before stirring. Always check for mold and then make sure your lid is securely back in place.
After two weeks you'll strain the apple scraps from the liquid and return the liquid back to your jar. Put it back in a warm, dark place and leave it for 2-4 weeks more. After 2 weeks you should notice that it smells and tastes like apple cider vinegar, but sometimes it can take up to four weeks to taste the way you want it to. Once you're happy with the taste it will be time to bottle and and store your vinegar, where it will be good for months to come! Use a funnel to pour the vinegar into jars, cap them and store them in a cool, dark place – light will diminish the quality of the vinegar, so these do better stored in a cabinet rather than on the countertop.
When choosing jars to store or gift your vinegar in make sure they are glass, and have tight fitting lids. It took me a long while to find jars that really worked for bottling my vinegar. I love these SKS clear glass beverage bottles with plastisol lined caps. At 16 and 24oz they are the perfect size for storing or gifting vinegar and their screw on caps are easy to use. They also offer shrink bands for a tamper evident seal that are great if you're thinking of selling at the farmer's market!
I found out about SKS not long ago and I've been hooked on this site – the beginning of canning season usually has me lugging jars and bottles home from the store for weeks, and often driving over an hour to find a store that has what I need in stock. This year I have been loving the ease of using SKS Bottle & Packaging, Inc.! They have over 6,000 products to choose from, so I can find every jar, bottle and lid I'm going to need for the year in one place, and I can have it shipped right to my door. SKS has been in business since 1986 so they know a thing or two about jars and they're customer support is top notch when you have questions or need some advice about the right kinds of jars for storing things like homemade vinegar.
Most of the products on the SKS website are also made in the USA and are 100% recyclable, which is really important to me when I'm shopping. The quality of jars and bottles I've bought have not disappointed me and fellow canners or homesteaders will really appreciate what I'm saying when you see how many styles and options there are to drool over!
If you're all ready to start on your homemade apple cider vinegar, here's a few tips for making sure everything goes smoothly:
If at some point a gelatinous blob forms in your vinegar, celebrate! This is what most people call "The Mother". The Mother is beneficial bacteria that develops during fermentation. You can use The Mother to jump start your next batch of vinegar. Some people will store it separately for this use, but I just leave mine in the jar until I need it.
While scum and mother are normal, mold is not – if at any point during the process you notice mold you'll have to dump the entire batch. I've never had a moldy batch yet, and your probably won't either as long as you are diligent about covering your jar well to keep out bugs and you always keep your apples completely submerged in the sugar water.
My homemade apple cider vinegar has been such a big hit that everyone I know requests some for Christmas, so I've created some printable tags that you can download and print for your bottles as well! After waiting more than a month for the perfect apple cider vinegar you deserve to show off those hard earned jars!
There are two different style tags to choose from, depending on the background color you like. Just click below to save and print the tags. I use a hole punch and some twine to attach them around the neck of my bottles.
You can make vinegar like this with just about any fruit scraps if you follow the guidelines above. I've done pineapple and pear vinegar, which are amazing tossed over a salad or used as a marinade for bbq meats. There are so many options – if you try something different let me know how it turned out!
Homemade Apple Cider Vinegar
2017-09-29 11:33:00
Easy Homemade Apple Cider Vinegar
Ingredients
Apple peels and cores
A large, clean glass jar
Water
Sugar
Cheesecloth or coffee filters & rubber band or string for covering the jar
Clean Jars & Lids for storing the finished product
Printable Labels for your jars
Instructions
Fill your jar 3/4 of the way full with apple peels and cores.
Make sugar water by mixing 1 Tablespoon of white sugar to 1 Cup water – you may need several cups depending on the size of your jar, so just keep mixing this ratio and filling the jar until it's a couple of inches from the top.
If needed, use a heavy plate or small bowl at the top of the jar to keep the apple scraps submerged under the water. I find that tightly packing quart jars keeps the scraps submerged, but in larger container I often need to place a small glass or ceramic bowl on top to push the apple scraps down.
Cover your jar with cheesecloth or a coffee filter. It's very important to keep gnats out of your vinegar so make sure this is secured well. When using cheesecloth I usually double layer it.
Place your vinegar is a warm dark spot for two weeks. You'll check on it and stir it every couple of days, being sure to replace the cover well afterwards. A brown/grey scum may form on top and that's completely normal and part of the fermentation process. You can skim it off if before stirring if you like.
After two weeks you'll strain all of the apple scraps from the liquid. Discard the scraps and put the liquid back in the jar.
Cover the jar well again, and place back in a dark, warm area.
Leave the vinegar for at least two weeks more. At this point it should take on a traditional vinegar-y smell. Once you are happy with the smell and taste of the vinegar pour it into jars for storage using a funnel. Cap the jars and store them in a dark place! Vinegar will keep for months this way.
Use your vinegar for cooking, cleaning or any other way you would normally use apple cider vinegar! It is not recommended to can or preserve with homemade vinegar because the acidity is not tested.
I find that the flavor is so much better than store bought for cooking!
Bear Hugs And Blanket Forts http://bearhugsandblanketforts.com/